Physics department of Isfahan University of Technology (IUT) in collaboration with the Iranian National Observatory (INO) and School of Astronomy (SoA) will organize an international virtual workshop on "Transient events and multi-messenger astrophysics". The goal of this workshop is to provide participants with a fundamental understanding of transient events and multimessenger astrophysics in a modern view. Postdocs, PhD, and MSc students are encouraged to participate in this workshop. The aim is to make optimal use of the 3.4-meter telescope of the INO, and other available and future observation equipment by researchers and students and increase the capacity and development of specialized manpower.
The language of the workshop will be Persian when the speakers are native Iranian and English otherwise.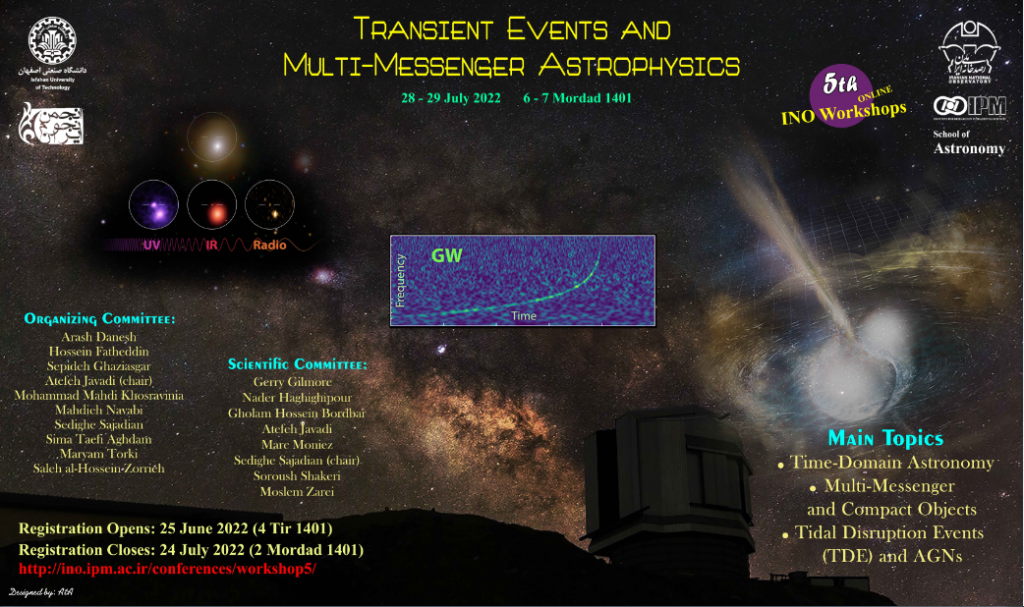 The online workshop starts: 28-29 July 2022 (6-7 Mordad 1401)
Registration:
There is no registration fee, but registration is compulsory. By reviewing the registrants' resumes, a number of students or researchers will be selected to participate in the workshop.
For more information please visit the workshops webpage: Http://ino.ipm.ac.ir/conferences/workshop5/;

Registration is open from 25 June 2022 (4 Tir 1401) until 24 July 2022 (2 Mordad 1401)
Students are allowed to submit an abstract. Some of the best works will be selected for presentation