Geneva University runs a 10-month program called "MASTER OF ADVANCED STUDIES IN EUROPEAN AND INTERNATIONAL GOVERNANCE".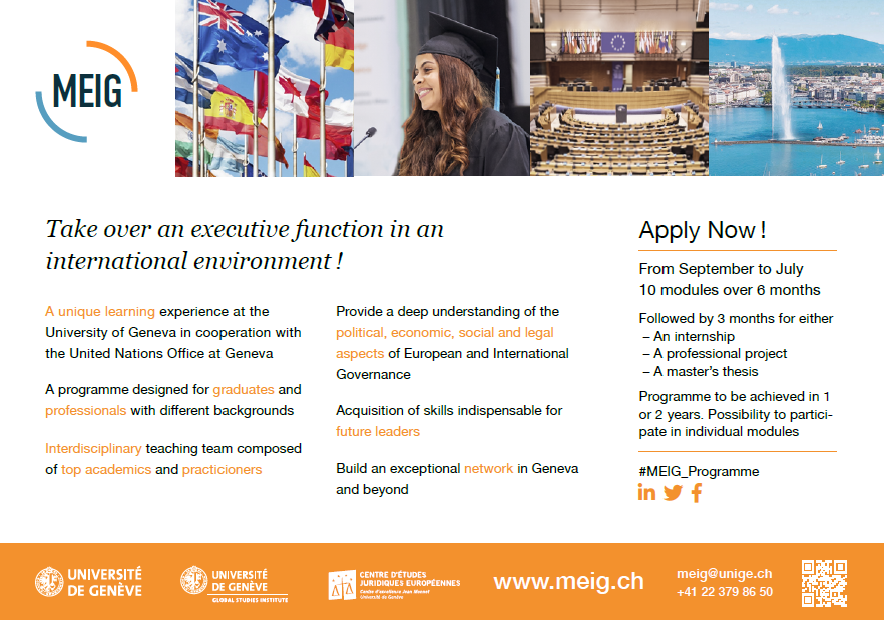 The program mainly targets young professionals with practical experience in governance. It is run in Geneva from September to June.
Geneva University has been able to secure a number of scholarships from a local sponsor. These scholarships cover mainly the tuition fees. Geneva University may also be able to arrange for partial scholarships towards living expenses during the program.
For the program starting in September 2022, there are some grants available for Iranian as well as for Afghan students. Candidates have to send their application to the address indicated on www.meig.ch until 15 November 2021, 31 December 2021 (second deadline) or 15 February 2022 (last deadline). Scholarship applications will be treated according the date of their receipt by the University of Geneva.
 For Registration and Furthet information please see  the following files:
#Swiss_Desk