The EPFL Excellence in Engineering Program offers an intensive research training opportunity to students interested in research careers in any field of engineering, science and technology
E3 is a highly selective program. If selected by a research lab, you will be contacted directly  after the application deadline is closed.
You will be joining a research group for a period of 8 to 12 weeks during the summer months. Starting and ending dates are flexible to match the academic calendar of the selected students. They will be discussed during the recruiting process.
You will attend a series of group meetings and workshops given by researchers from EPFL and abroad. A dedicated workshop with combined social activity will be devoted to the participants presenting their own summer research results.
Please browse our webpage to find out more about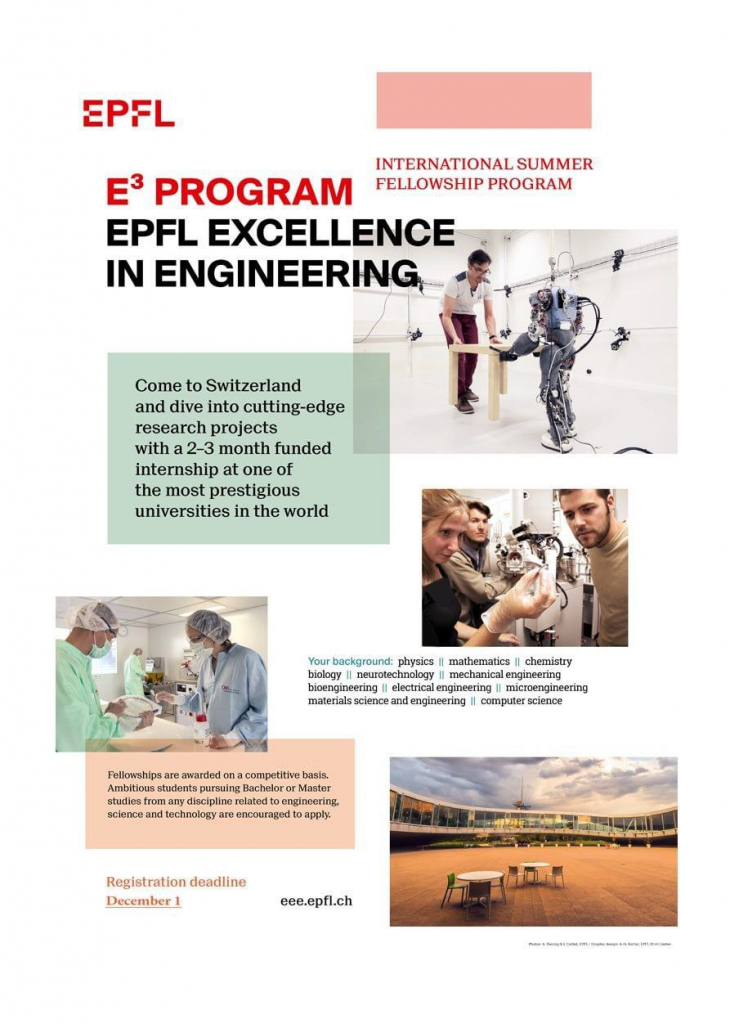 The application portal for the 2022 summer edition is open! You can apply till December 1st 2021 (midnight CET).
Your application file should be composed of the following documents:
Your curriculum vitæ.
Your complete academic transcripts, including the most recent ones. Transcripts can be in any form your university provides them. If you only have them in paper copy, please scan them. If they are not in English, please send both the originals and a translation (no need for the translation to be official, you can do it yourself).
A research statement explaining why you would like to participate in the E3 program and your preferred host lab and research domains choices (max. 1000 words).
A scan of your passport or national ID card (if you do not have a passport yet).
Please prepare these documents before applying through the online portal and have a look at the FAQ.
Apply here.
The results of the selection process will be announced around mid March 2022.
For further information please click here.
#Swiss_desk