Prof. Dr. Vahid Ghaffarinia, a faculty member and the head of the Avionics Research Institute of IUT, won the Dr. Fakhraei Award of "IEEE".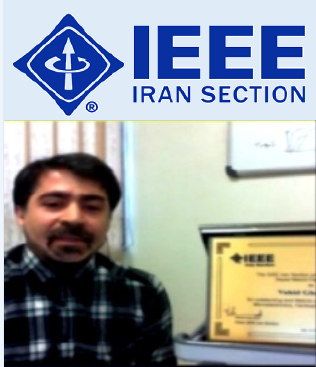 Dr. Vahid Ghaffarinia, a young Associate Professor at the Department of Electrical and Computer Engineering, and the director of the Avionics Research Institute of IUT, won the Dr. Seyed Mehdi Fakhraei Award from the IEEE branch of Iran.
The 12th IEEE Award Ceremony in Iran, which was held online, was attended by prominent professors of electrical and computer engineering in Iran, researchers, entrepreneurs, and industry veterans, students, consultants and other members of the Iranian branch of IEEE.
The award is given annually to a faculty member in the field of electrical or computer engineering and subgroups of microelectronics, hardware, and digital systems, based on the evaluation and recognition of the jury.
The Institute of Electrical and Electronics Engineers (IEEE), is a professional, non-profit international organization that aims to help advance technology in general and areas related to electrical and computer engineering and related fields in particular. It has more than 400,000 members in 160 countries.