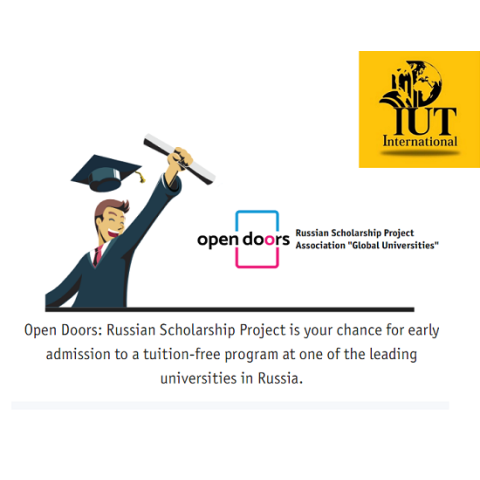 The "Open Doors Olympiad: Russian Scholarship Project" has been started for the fifth time . Students from all over the world can participate in the
Olympiad and win a scholarship to study for master's and PhD programs in the best Russian universities.
The Olympiad is organized by the Association of Global Universities in collaboration with the Ministry of Science and Higher Education of the Russian Federation and the Rossotrudnichestvo Federal Agency. Thanks to the project, talented students from different countries can be admitted to master's and PhD programs using the "single window" system: the winners and awardees of the Olympiad can choose among Russian universities, including universities placed in the prestigious international rankings - the THE World University Rankings, QS World University Rankings and the Academic Ranking of World Universities (ARWU).
Foreign citizens and compatriots permanently residing abroad can take part in the Olympiad. Participants of the Olympiad must have a bachelor's (alternatively a five-year specialist's degree) or complete the required degree program in 2022.
All rounds of the Olympiad are held in Russian or in English. The language of instruction in Russian universities can be Russian or English.
In 2021-2022, more than 56 000 people from 197 countries took part in the Olympiad, and 884 participants in 14 subject areas from 83 countries became the winners and awardees.
Both Master's and Doctoral tracks include two rounds. The first round is a portfolio competition. Those who have been selected after the evaluation of their portfolios are invited to take part in the second round of the Olympiad, which is a proctored test.
The Doctoral track includes one additional round - an interview with potential research advisors. Provided the interview is successful, the participant chooses a research advisor from among those who have agreed to supervise their research.
Course Level: The scholarship is available to pursue master's and PhD programs.
Study Subject:
• Biology & Biotechnology
• Computer & Data Science
• Mathematics & Artificial Intelligence
• Business & Management
• Politics & International Relations
• Neuroscience & Psychology
• Physical Sciences
• Linguistics & Modern Languages
• Chemistry & Materials Science
• Economics & Econometrics
• Engineering & Technology
• Clinical Medicine & Public Health
• Earth Sciences
• Education
Scholarship Award: Winners and runner-ups to study at any Russian university, with tuition fees covered by the state, which implies a 100% discount on tuition + a governmental scholarship.
Nationality: International
Number of Scholarships: 300+
Scholarship can be taken in Russia
Eligible Countries: International
Entrance Requirements: Participation is open to all foreign citizens and compatriots permanently residing abroad. Participants must have a bachelor's (alternatively a five-year specialist's degree) or complete the required degree program in 2022.
English Language Requirements: Participants can take part in either Russian or English language.

Application Procedure
How to Apply: Applicants can apply through the online processor.
To take part in the Olympiad, participants should register on the Project website: https://od.globaluni.ru/en/.
Registration is open from September 15th to December 10th, 2022.
List of Universities:
Higher School of Economics (HSE)
Tomsk state university
ITMO University
Moscow Institute of Physics and Technology
Novosibirsk State University
National Research Nuclear University
National University of Science and Technology MISIS
Ural Federal University
Saint Petersburg Electrotechnical University (LETI)
Sechenov First Moscow State Medical University
Peter the St. Petersburg Polytechnic University (SPbPU)
Tomsk Polytechnic University
Immanuel Kant Baltic Federal University
People's Friendship University of Russia (RUDN)
University of Tyumen
Far Eastern Federal University
Kazan University
Lobachevsky State University of Nizhni Novgorod (UNN)
Samara National Research University
Siberian Federal University
South Ural State University

https://vk.com/opendoorsrussianscholarship